.. so I just got home from the vet...The dogs haven't been let out of their crates yet. They were doing the "happy sounds" because they heard me. I sat down here first. Then...the dogs start doing the "Someone is here and they shall die" sounds. (I figured it was the fed ex guy) After several minutes I don't hear any fed ex guys big truck. (shrug) THEN...I hear what sounds like a human, pretending to bark like a dog out side my window to the left. My ACTUAL dogs are now curiously silent. I sneak back to the grooming room where the dogs are crated. I am still hearing the barking outside my window.

Even MORE curiously, the dogs are not super happy excited when they see me? I am now slightly panicked and I rush to open the doors and let them outside. (Whoas be to whomever is doing that, because Doom WILL eat them.)

Not surprisingly, I don't hear the pretend barking anymore as we make our way to the door that leads to outside. The dogs still are not being their hyper selves. I open the door and usher the dogs outside, fully expecting them to do the customary~ !rush outside barking as if the world is on fire because a leaf blew across the yard and is a huge threat to our very existence! ~ thing that they normally do when they had been barking only 5 minutes before hand.

Nope...they sedately went outside as if I were the falling down on the job.
Hmmm, figures my very first blog post would be a creepy one. It IS a full moon tonight....OH YIKES! Come to think of it, it's the blood moon tomorrow night! Oh for joy.

Ah well, Welcome to the Adventures on WindyHill!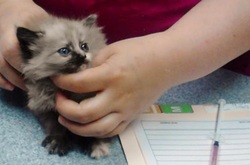 Typical day at the Vet for Elsa's kittens Born on April 3rd, 2014.
PS ~ I am sure Queen Elsa will have something to say about the whole "Vet Visit" today...and I think I will ask her to explain how Persian Highlander cross kittens came about as well!