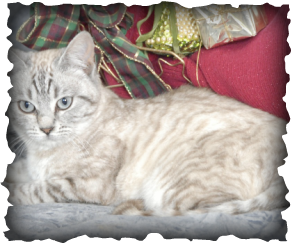 Once upon a time, in a land far far away there lived three little Highlanders. Highlanders are cat like creatures, with the ability to act like a dog, a cat, a mouse or sometimes even a human. They are notoriously cute, cuddly, playful animals.




It all started when the Highlanders were first formed. There was the very first Highlander, not very spectacular really, very cat like in appearance, almost to the point that everyone thought she was "just" a normal cat. Her name was Mendacia. Very few were able to detect that Menacia was actually, a Higlander. Mendacia was a liar, through and through, the art of her deception was so skilled, so advanced, that there was hardly a discernable trace. Mendacia would play fetch like a dog with the local children, laughing to herself whilst they called "Here puppy! Puppy" to her when she returned the toy they had tossed for her. For all the world, her body language said "Dog" so the children saw DOG. Sometimes, in order to protect herself from harm, Mendacia would open her eyes very wide, and sit very still and look imploringly into the eyes of the human she was interacting with. The humans, witnessing such emotion in the blue, blue eyes of Mendacia saw HUMAN. They would then share their food with her, and their warm fires in the winter time. Mendecia did not limit her game play to the humans, oh no, she had convinced many a mouse that she too, was a very small harmless mouse by crouching low, and moving slowly so as not to arouse suspicion. The mice that were observing the small, at ease creature, saw "MOUSE"….right before they were eaten. Mendacia went about her days happily using her wiles to deceive all whom she came in contact with, normally being seen as Cat. Yes, Mendacia was happy.
The Gods of the realm were not. This was getting out of control! Perhaps if they were to give Mendicia a play mate she would be content to play her games with only her play mate and not the entire population. Thus, was born upon this far away land, Piaculum. Piaculum was created just for Mandacia to work her intricate arts of deception upon. Deceive she did, with utter joy and satisfaction. Piaculum was the perfect match for Mandacia. The humans, mice and other creatures were no longer bothered by Mandacia. Now, both creatures, appear as CAT to all that saw them or heard them, or even heard about them. However, a peculiar thing happened, Piaculum lost about three quarters of her cat-tail.
How could this be? Wondered the Gods of the the realm. Why would this happen? After some investigation, they saw that Piaculum was so very good at her job, that her one vanity, her one piece of beauty that had remained untouched by Mandacia's cruel and hateful deceptions....had all but disappeared! Piaculum was left with but 1/4 of her cat tail. This 1/4 tail was to remain as a reminder to the Gods of Mendecia's great power. You see, Piaculum was a lovely, sweet thing, always submissive, always kind almost to the point of martyrdom.

The one thing that she had saved for herself she had let go in favor of continuing the role that had been set before her.
Again, the Gods were not happy. They thought upon the matter for quite some time. They decided that the best way to contain Mandacia and her antics was to place in her path the opposite of what she loved to do. Whereas Piaculum was quite s benefit the other creatures, it wasn't of huge benefit to Piaculum herself to be the only one to receive the attentions of Mandacia.
Once again, the Gods created. This time they created something of such mystery, such valor, such grace and honor that it was undefeatable, even by Mandacia. They created…Veritas! Oh Veritas was an intriguing creature. Something none of the others had seen before. Something, never experienced before. For every game that Mandacia played, Veritas could play twice as well! Veritas was never seen in any form but his very own ~ though curious and magnificent it was. When Mandacia played Dog, Veritas played Dog ~ in his true form. The children no longer saw Mandacia as Dog, but only cat, only simple cat with a curious penchant for fetch. When they gazed upon Veritas in his own curious form, they would smile and say this one, this one "High above the other in honor, for he does not choose to deceive us." When Mandacia attempted to play tricks upon Piaculum there was Veritas in the middle, showing his true form, thus reducing Mandacia to Cat yet again. When Mandacia attempted to show MOUSE to the mice, they saw only Veritas in his true form, and said amongst themselves
"This creature comes from a land not like our own"
Thus, the very form the Highlander had become synonymous with Veritas. Though Mandacia was the first known Highlander due to his birth right, and our lovely Piaculum had become the second known form of the Highlander, the most renowned and magnificent form of the Highlander is that of Veritas!

It is a little known secret that the Highlander was so revered for his feats that he was summoned to our very land here on Earth with us. The greatest form of Highlander, Veritas, can be seen here today. If you keep your eyes open and your ears peeled for the feats of Veritas, you shall see one of his descendants. Mayhap in interact with him or her. Maybe, just maybe if you are wise enough, and sincere enough, you may come to have one of Veritas wonderful descendants in your very own home. You see, the descendents of the Highlander Veritas have a very special look and very special characteristics. They have curled ears, as a reminder to be ever vigilant in seeking the truth and displaying it, they have a short tail as a reminder of our Piaculum and her sacrifice for her friend Mandacia, and they always appear in the true Highlander form. The descendants of Veritas come in many colors, however the most favored are those of the wild cat, such as black, snow, or spotted. They can be seen playing fetch like a dog, playing in water like a duck, walking on a harness like a horse, crouching very low like a mouse, or sitting very still like a cat. If you are deemed worthy; a descendant of Veritas will indeed present him or herself to you. Be honored, be truthful, and know that whenever and wherever there is a liar, and a lie-ee, the truth is somewhere in the middle.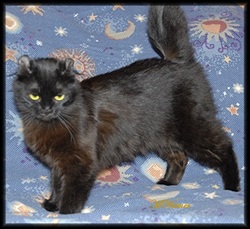 Here you see a photo of a descendant of Varitas! A Highlander Cat it's true form.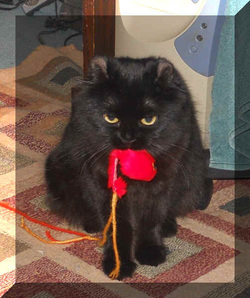 Here you see a descendant of Varitas caught in the act of playing fetch with a small mouse like toy....in true Highlander form.