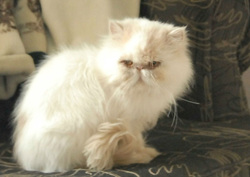 This is Mooshie, my CFA/TICA Registered Persian cat.

Mooshie is normally a very monogamous Tom Cat. He really is, he had to live with his wife Layla for over a year before he would consent to breed with her. He like romance, taking his time, doing things right. He can be surrounded by girl kitties and he ignores them all in favor of his wife.

Mooshie is always a gentleman, he doesn't spray, he doesn't bite, he is never mean to the kitties. Unless you count bathing them as being mean to them. Though the kittens may beg to differ on the bathing aspect, he feels he is just doing is fatherly duty in helping out mom. He is a great kitten sitter, and always a big ham.

He does have his downfalls, I am sure Elsa would be more than happy to tell you all about it. He believes in the great tomato, you see he LOVES tomatoes, eats them any chance he can get. On spaghetti night, he will sing "Ol McDonald had a Farm" just to get the sauce. I am not kidding, I will video it and post it when I can. Mooshie believes that if he catches the great tomato, he will be blessed with as many tomatoes as he can eat for a lifetime. He is always on a quest to capture the great tomato. But I digress.....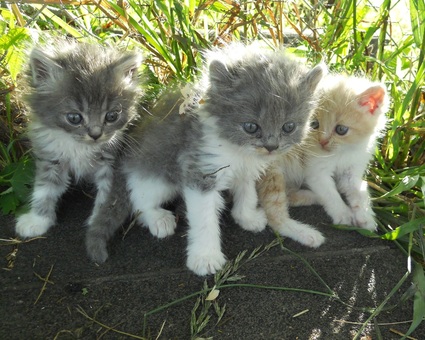 These kittens are by my CFA Registered Persian Male Mooshie... and my TICA Registered Highlander female. While they are quite adorable ~ with doll faces and some have the curled ears....they were an oops breeding. My ever monogamous male Persian suddenly found himself attracted to my blue eyed Highlander female. Thanks to a few open doors, and some oversights on my part...I now have this amazing litter!

I have been pleasantly surprised by the positive response that these kittens have produced!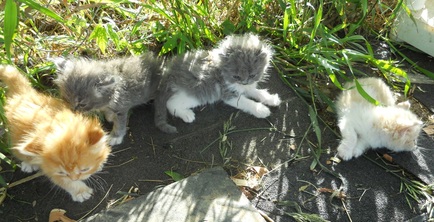 Than again...who doesn't love a Persian with curled ears right? These kittens will not have the full Persian coat. They will grow up to have plush hair and be very low maintenance in regards to brushing. They are very laid back and gentle, even in their play. They will do well in most any environment, as they have the adaptability of the Highlander and the low-key nature of the Persian.

I may have accidentally invented the perfect cat!

We only have four of these amazing babies left available for adoption. They are ALL males, with ONE exception, the smaller, lighter, cream and white kitten with blue eyes and slightly curled ears is our only little girl.
The kittens pictured above are the ones that are still available for adoption.


Kittens can not leave here until they are 12 weeks old. This is in order to ensure both sets of shots and time to recover from the shots before sending them out into the world. It also gives them plenty of time with mama and they can be properly litter trained, socialized (with humans, other cats, children and two large dogs) and eating dry food without mixing in wet food or water. You will receive a healthy, happy, well socialized baby to add to your home. Kittens will be ready for their forever home approximately on July 31st after vet clearance.

If are approved, and you choose a kitten, and put down a deposit, you can then let me know the name you have chosen for your kitten and we will start addressing your kitten by his or her name right away.
We will then send you an adoption agreement/health guarantee, and a spay/neuter contract. Both are to be filled out and signed and sent back via email or fax. An electronic typed signature if fine. Or you can print/scan/ send...whatever your preference.

We ask for a $100 deposit to hold the kitten in your name. The total adoption fee is $200.00, this covers the vet exams, shots, de-worming, health checks and maintenance for both mama and kittens. They will have both sets of shots and two de-wormings ~ along with lots of other information.