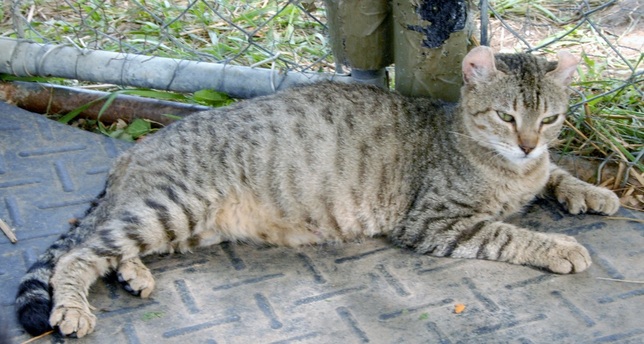 Greetings all! I am pictured here calmly observing my surroundings in the outdoor cattery here at Forever Kittens Cattery. I am quite at peace here. So, I suppose you are wanting to know the details of my announcement!

I am pregnant! Due within 3 weeks or so! My babies will be the first poly-toed babies born here at Forever Kittens. Humom is very excited to see my first litter. I may go past my due date just to torment her. I am very much hoping that they all look just like me. I shall be a fine mother, teaching my babies the finesse of hunting the toy on a stick, demanding extra food, and of course chip stealing!

Humom has been extra generous with the treats lately too. I think she wants me to get fat! Nothing like carrying poly toed babies around here to get me even more spoiled! I think I may like this whole pregnancy thing. It has not hindered my ability to stalk the cat toys, or climb onto the top of the shower rod, so all is well.

Did you know my nick name is Polly? Yep, mom calls me "Polly" so often that I think she thinks it's my name. We all know my name is really Winnifred. However, I do have to let the humans have their silly whims sometimes. Because of my kind and very generous nature, I let it slide.

Ah well, that is enough chatting for today, I simply wanted to show off my glorious new figure and let all of my loyal fans in on my wonderful news.