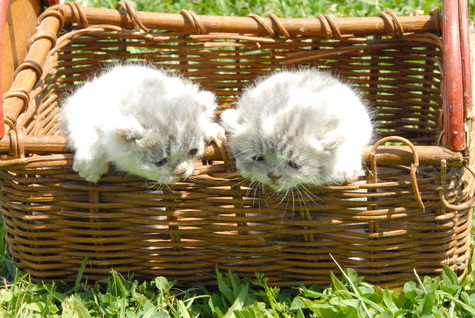 Only two babies, one boy, one girl. I do believe this is the last of the evidence of Mooshies breeding spree.


I must admit these two are quite the little cuties and Winni seems to be very proud of her little fat babies.
The female is actually a dilute Calico, it's very difficult to capture the calico in the photos though. I imagine as she ages it will be come easier. You can see just a bit of the cream patches on her tail. They both have the doll faced Persian look.


Both of these kittens are are available for adoption!
While I was taking photos of the kittens, Winni enjoyed some free time. Winni knows that even when the kittens are little, if there are photos being taken, we MUST have the cat toy somewhere nearby....Of course Winni decided she couldn't just wait on us to get the toy out. She used the time we were distracted, to climb into our "Kitten photos prop box" and not only find the toy, but drag it out into the yard and proceeded to have a gay ol time with in. At one point, smugly prancing nearby dragging toy and stick glancing at us sideways to be certain we saw her great escape. Needless to say, we were cajoled into playing with her. I have included some pictures of the lovely (and very lively) Winni below.