Adult Cats Available
Phone: 765-538-CATS (2287)
Text: 765-336-4089

***Pay Pal is our preferred Payment method ***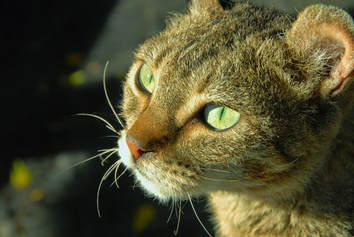 This is Winnifred, we affectionately call her "Polly" She is a purebred Highlander female.

Polly is very friendly with humans and dogs and children. She is very, very timid around other cats...even large kittens! (Not kidding) She loves, loves toys! Her favorite is the kind that has a string on a stick with something at the end of the string. She will chase, play and fetch for hours! Play brings her joy. She is a lap sitter and bed sleeper ~ her preference is to snuggle under the covers right next to you. Polly is a known potato chip thief! She steals the little 99 Cent bags, carries them off and eats them. She will also dig through the big snack bags in order to find her favorite Cheetos!

Polly has a BIG personality, she is a great entertainer. I tried to capture her personality in the photos below. Polly has claws on all 4 feet. Polly is an indoor only cat.
​
If you are interested in Polly, please send us an email and tell us a little bit about yourself. An email stating "how old is she and how much?" Will get no response from us.
​
​* Adoption application must be filled out
* You must sign a spay contract ~ she MUST be spayed, she is not to be bred for any reason.
*Polly is a purebred Highlander Female, she will not come with papers
* There will be a re-homing fee of $300

Please read the information we have taken the time to post for you prior to calling or emailing us!​
---