We don't like to talk about it, but it happens, cats sometimes get Diarrhea. The real question is, what to do about it?
Words like "Flagyle, worming, and Albon" are bandied about among breeders like it's the latest weather. But what if you have tried it all, and none of it has worked?
Are you supposed to suffer with a cat that has a drippy booty?
No, there are two products that I have found that work when all else fails. I think that products that work, are worth talking about. The first one is a product called Diar- eze.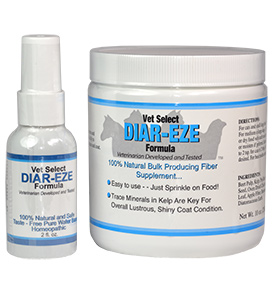 I get the granules and just sprinkle them over food. It takes just a few days and kitty has no more problems. I use it for about a week to give the digestive system time to heal and relax before I stop using it. Sometimes, I will sprinkle on food once a week or once a month if I have a cat with IBS. (Irritable Bowel Syndrome) How often depends on how badly they have IBS. I have only had one cat with IBS (A sweet, Calico Persian) the long hair and IBS did NOT prove to be conducive to a clean cat. Diar-Eze was the only thing that actually worked. It took me long hours searching the internet and trying all manner of remedies before finding this one that worked. I was incredibly skeptical about it working at all..but at this point, anything was worth a try. It worked, it actually worked. I mixed it in with wet food first, however, after seeing the Diar-eze in action, I gained confidence in the product and began sprinkling it on the dry food once a month to make sure she stayed good.
You can find Diar-Eze here:
http://www.allergicpet.com/products/diarrhea_formula.html
If Diar-eze works so well, why would I even talk about another product? As well as Diar-Eze works, it doesn't actually cure the problem if it is
not
IBS or something similar. What if it's something else? How can you tell? I think that IBS is sometimes mis-diagnosed, sometimes I think it's parasites that haven't been found in a fecal float. We all get our cats and kittens checked for parasites, it's part of the initial vet exam, and the final vet exam. Some times parasites just don't show up. So, what to do?
If the vet has suspicions, even if nothing has shown up in a fecal float, he or she may try the previously mentioned Flagyl or Albon. If those things don't work, I have another solution! It's a natural remedy called Kochi Free.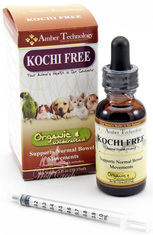 The trick to using this remedy (or
any
natural remedy) is to follow the directions. (duh right) but it will serve you to know that natural remedies normally have different directions than "normal" remedies. The directions for Kochi Free is 4 xs per day for 10 days. I know, I know, it makes me want to run and scream too. But it works, it really does. I have some more news...sometimes the first treatment doesn't work, and you have to take a 10 day break, and then do the treatment again for 10 more days. I know it's a huge inconvenience, but furry hiney and diarrhea don't mix. When the chips are down, and you are at your wits end, this is the thing to do. I use the Diar-Eze during the 10 day break and then stop it when I re-start the treatment. I do this because I don't want to be fooled into thinking all is well because the Diar-Eze fixes it, but doesn't actually cure the real issue (unless it's IBM or something similar) Kochi free can be found here:
wolfcreekranch.net/coccidia.html
As I have said before, some products are worth talking about...these are two of them.
I use these two as a final remedy. I usually try using pumpkin puree first. (no Libby's pumpkin pie filling with the yummy spices ~ the spices are not friendly to kitty tummies) only plain old, no frills prumpkin puree.
One final thought, if your kitty is having tummy troubles, there are several good foods to try. The trick to another food is this ~ don't give up! Your cat has to eat it for at least 6 weeks. I know that most people have heard about the slow integration bit, that lasts for about 2 weeks,
those
two weeks do not count in the 6 weeks total. The six weeks starts when you are fully feeding the new food. If you are seeing even a small improvement within the 6 weeks, keep going.
Every cat is different, some cats do great on one thing, while others do great on another. I like three different foods,
Purina gentle, Purina Pro Plan Focus sensitive skin and stomach (they offer lamb and rice and Herring -the fish- and rice) and finally Royal Canin Gastrointestinal High Energy for cats. (it has to be High Energy ~ even if your cat isn't)
I like to order all of my cat food online and have sent to my door because I am basically lazy and don't like Walmart lines...or..any lines really. I love knowing that my cat food is going to be on time, every time. I don't have to worry that I will ever run too low, or running out on an emergency food run in the middle of a snow storm. You can get all three from
jet.com
. It's an awesome site because they often offer free shipping and you get lots of discounts for different reasons...and mostly...they ship. You need to have a prescription for the Royal Canin because it's a veterinarian diet.
​Okay, that's all ~ this has been a public service announcement!