Highlander Cat Breed Information
Forever Kittens Cattery has decided to offer a wonderful new breed to our clients! As many of you know, we have a great love for the curled eared variety of cat, this interest attracted to us a lovely, rare breed known as the Highlander cat. Highlander Cats have Natural Short tails, Curled Ears and can be rather large sized. They are slow to mature, continuing to grow for up to 3 years. So, keep in mind that your sweet "little" baby will get to be a "BIG" baby.
About the Highlander

The Highlander is currently a Preliminary New Breed with the International Cat Association (TICA).

If purchasing your Highlander from breeders not listed on the Highlander Breeder's website, ask for proof of TICA registration before you buy. If they cannot provide proof of TICA registration it is NOT A HIGHLANDER!

Highlander cats are well renowned for their ability to adapt easily to any situation. They get along very well with large breed cats such as Savannahs, and Bengals. The Highlanders unique look of the wild mixes quite well in the large breed cat lovers family and makes for a fabulous conversation piece. Not to mention the hours of entertainment they provide with their boundless energy and never ending antics. The cuddles and purrs they give out to all whom they encounter endear them to even the most devoted "non cat people."

What makes a Highlander a Highlander and not a Highland Lynx ~ as told to me by Holley Wise-Nicholson:

Highland Lynx was the original breed registered with REFR. Joe Childers, the breeder chose to call the straight eared kittens Desert Lynx, Pure white kittens-Alpine Lynx, Curly coat kittens-Mohave Bob. Except for the one feature in each cat, they were the same breed.

When the Highlander Lynx was taken into TICA and made into a Highlander, it became a different cat really, with different standards and different rules. So if we register our cats as Highland Lynx with the REFR, all the kittens with straight ears are called Desert Lynx, and those with curled ears are the Highland Lynx.
If we have Highlander cats and register with TICA, ALL kittens born of Highlanders are also Highlanders (regardless of ear or tail manifestations) Much like a Manx born with a tail is still a Manx.
**In short the Highlanders are TICA Registered and though they got their bearings in the Highland Lynx with The REFR registry, they are now their own cat. The Highland Lynx and the others mentioned above are registered with REFR.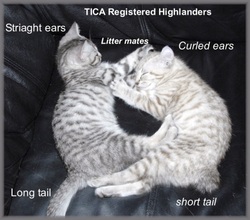 Pictured to the left are two highlander kittens born here at Forever Kittens Cattery in the same litter. You see the one on the right is a standard Highlander cat, with the curled ears, short tail and spotted markings. On the left you see one with straight ears and a long tail, with the spotted markings. Both standard and non-standard Highlanders can be born in the same litter.
---
History Of The Highlander Cat

The following information was acquired via internet research and via Highlander chat lists. If the original author of the following will please contact me, I will be more than happy to give you due credit. I am not the author of the following ~ though believe it is quite accurate: The Highlander cats' roots are somewhat of a mystery with legends of bobcat hybrids, descendents of Hemingway cats, and spontaneous mutations in barn kittens. The true beginnings of the breed may never truly be known, but we do know that it is descended from the Highland Lynx, which is a cat created by using a variety of breeds, including American Curl, American Bobtail, Jungle Curl, Junglebob, as well as a variety of other breeds.

The Highlander has many unique features and in fact is a powerful looking animal, but in reality, it has a fun loving, playful, and laid back personality, which makes it the perfect cat for any household. The Highlander is usually a large cat, although females tend to be smaller than males. Other unique features, which make this breed stand apart, include the slightly curled back ears and the naturally short tail. Highlander breeding programs continue to selectively breed to protect and enhance this distinctive look as well as to enhance the bloodlines to keep them genetically different and pure from other breeds. Although their look is one of power and fierceness, Highlanders are fun-loving, good-natured cats that constantly entertain their humans with zany antics. They enjoy being the center of attention.

Although the Highland Lynx was created in 1994, the Highlander breed was not recognized by TICA until 2005. There are Highlander breeders throughout the United States and they are working to progress this unique and amazing breed through the New Breed program until they eventually achieve Championship status and are considered a true purebred cat.

This is a very adaptable and loving breed that is equally happy in a very active or a very quite home. They get along well with children and other pets. Here at Forever Kittens we will continue to strive to achieve the TICA breed standards for the Highlander and share these wonderful cats with the public!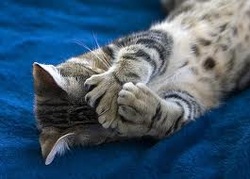 To the Left you see a Highlander Cat with polydactyl "poly" feet, this means the cat has 6 or more toes on either both front and back feet or just the front or just the back. We are now adding poly feet to our program! Look forward to those extra toes in the future!
---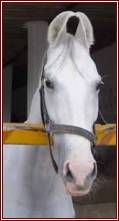 The curled ears of the Highlander cat are God made, not man-made, just as you see to the right in the photos of the Marwari horse. The cat and the Marwari horse are the only two species of animals that I know of that have those lovely curled ears. This makes the Highlander cat all the more appealing in my opinion.
---