More Testimonials From our Happy Owners!
Phone: 765-538-CATS (2287)
Text: 765-336-4089
Email: Melissa@foreverkittenscattery.com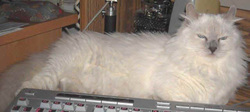 "Ivory"
Standard Kinkalow Kitten
Hi Melissa! I'm just writing to tell you that Ivory has been a great joy in my life! She has adjusted really well and I love her so much!
Thanks so much again for such a wonderful kitty! Susan


---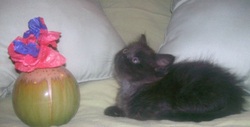 Non Standard Kinkalow Female
"Chocolate"
Now known as Katie-Bell"
Our story starts with Forever Kittens Cattery. I am fortunate enough to be one of the few to watch the magic unfold at Forever Kittens. Starting with Magwai and "Teeny Keeny" A.K.A. Akina. I knew that what I would witness from that point on would be nothing short of a miracle.

I must be honest with you… personally, it is a good day for me if a cat and I can befriend each other. I always thought that maybe it was a certain scent about me that just irritates their race. Either way, I was amazed that these cats in particular have no prejudice whatsoever against my smells or myself. haha. From the start the cats from Forever Kittens were all the most lovable creatures I have encountered thus far. I had to have one :)

Which brings us to our Katie-bell ~ from the moment we met her she was special. She was a big ball of chocolate love and purrs. She is constantly giving us affection and we can't get enough. My husband actually gets jealous sometimes of Katie-bell and I, because she has become my lil pocket best friend. Her favorite thing is to sleep on my belly.

I really got Katie-bell originally for a pal for my hubby due to the fact that I have a big dog that is my baby.... but it turned out that Katie-bell just wont pick favorites. She hangs out with her Daddy in the mornings and shares us both in the afternoons, but when night falls she doesn't separate from me. It is a wonderful feeling to finally have a kitty that I can love and appreciate. Katie-bell is also equipped with more patience than i can grasp. Our dog puts her to the test each and everyday, but Katie-bell never gets upset with her. I was kinda hoping she would maybe just once tell her off and show her who can be boss, but I just don't think she has a mean bone in her body.

I am so grateful to Melissa for providing us with our lil Katie-bell. She is the icing on the cake for our lil family.

Sincerely,

Mr. & Mrs. Madden "Katie Bell" Pictured at right all grown up! She's not spoiled a bit:))


---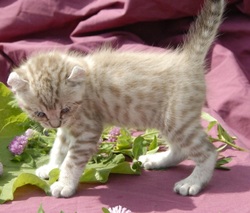 Highlander Male Kitten
"Serabi"
Hello :)

Sorry it has take so long to reply, life is hectic at our place. Serabi has grown to fit perfectly into our family. I can not believe how awesome he is. Nothing seems to bother him. He loves all the children and both of our dogs, even though one of them torments him routinely! He loves to be carried and loved on by our children and never puts up a fuss whatsoever. I can not imagine a better addition to our family!

Serabi is still small but has tons of play in him. His eyes are still blue and he is darkening around the edges but staying light through the body. His ears are still about the same curl (not too curly but definitely some curl to them). I want to thank you again for offering such a great cat to our family. If all Highlanders are this awesome with children then I can't imagine that the breed won't soon be the most popular there is!

Thanks Again, The Whelchel Family

---
Seen Above is "Puff" now known as "Nessie" with her new friend in the photo on the right. Glad to see she is getting alone so well with a new buddy in her loving new home!
Seen Above is "Quarky" now known as "Chloe" as a kitten on the left, and all grown up on the right. Chloe is our shortest short-legger to date!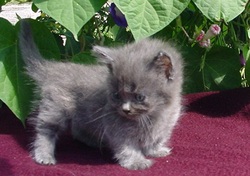 Kinkalow Male Kitten
"Boo"
Hi Melissa! remember me? :) We bought our blue munchkin kitten Boo (formerly Purrity) from you back in October. Well, I just thought I outta update you on how he is doing!

Well, first of all, he's such a ham! And very chubby, too. When we first brought him home, he was so tiny we could fit him into our pocket. He's certainly grown into his looks, but perhaps not his legs! haha. He loves our dog, Charlie, and harasses him for hours on end (Charlie loves it). Our other cats strangely accepted him immediately, and our persian Latte has assumed a very paternal role. Boo is very affectionate and cuddly and everybody who meets him falls in love with him. He can be a little snot at times,he's obviously still a kitten and plays rough but we're fortunate that he typically relays these actions on our dog! :P

Everytime I go to bed, he gets up into the crook of my neck or on my chest and falls asleep there. I don't think I've had a more loving pet than him. :) In fact, I plan on getting another munchkin when I move out! A girl, definitely. You've made this a very pleasant experience! Thanks for our little kitty-Boo.

Have a good Easter weekend. Take care.
Chelsea Batman

Ps: I've attached some pictures, as per request! They're quite large so it might take some time to load.Thanks! Chelsea B.


---