Testimonials From our Happy Owners!
Phone: 765-538-CATS (2287)
Text: 765-336-4089
Email: Melissa@foreverkittenscattery.com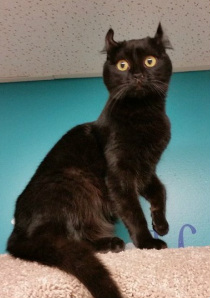 Female Highlander "Sheba"
Soon To Be Queen of her own Cattery.

Melissa,
Sheba is such a joy and extremely affectionate

Tabitha
**Sheba has grown up to be quite the lovely Panther! If you look closely, you can see the "shadow" stripes and spots that she has in her coat. I suspect she will have some stunning babies to share with the world in the near future. It's good to see a quality cat in a wonderful cattery promoting this great breed! Congratulations Tabitha on your new start!***
---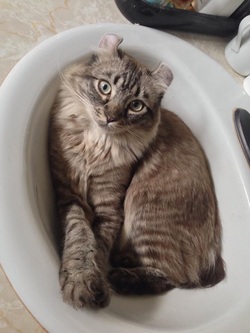 Male Highlander "Prince Razzi"

Melissa,
An update on Prince:
Prince fetches and catches. He's in training for harness/leash walks, but right now he just leads the way. He takes stroller rides with the neighbor girls (I bought them a pet stroller to use). He's a wonderful companion and I appreciate him every day. My guests love him too and of course Prince thinks they are all here to visit him so he's very loving and playful Prince has the cutest little soft meow for such a handsome big boy. His striking coat is soft as cashmere, and his regal mane makes him a true Prince
'He's have the softest cuddly coat ever!!!'
Connie


**Evidently, Prince still loves a bowl to play in! Some things never change. ***
---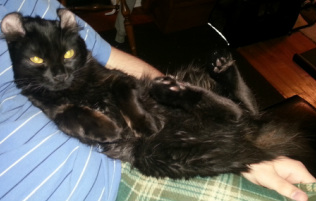 Highlander Male
"Shango"

Hey Melissa,

... I'm emailing you to let you know that Shango has been neutered as per our agreement. He actually has been fixed for about a month now (doctor wanted to wait till 6 months...

So far he's definitely a lot of fun. He's always waiting for me by the door when I get home and loves to jump up and cuddle with me on the couch after I sit down for about 15 minutes, purring like a lawnmower. He's also super super energetic (especially around 5:00 am), which can be a bit of a pain, but I certainly haven't had to worry about sleeping through my alarm in the mornings! He's a little bit crazy, flopping between wanting to cuddle and wanting to run around my room in circles for 20 minutes straight, but it keeps my life interesting at least.
..... he has been growing up.

Thanks again,
--Brandon
---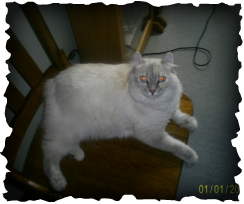 Highlander Female
"Ziva"

Hi Melissa,

I thought that you might enjoy some pictures of Ziva now that she is about a year old. She is a great cat. The dogs are sometimes intimidated, but are learning that she is all about playing and she wants them to react to her...........She is very much a momma's girl, but will give Dan some attention because he likes playing with her with the little red lite that we have. With me she likes to play fetch with her feather or get into my knitting projects. She is trying our patience because as soon as we let the dogs outside, she thinks she is suppose to go with them. She is quick and she has gotten out on the deck several times. We have put her on a leash and let her set out there for awhile, but I feed the birds just off the deck and I don't want that to become a problem.

Hope all is well in your life.

Regards,

Denise
---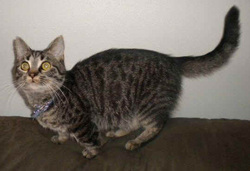 Napoleon Male
"Short Stack"
Now known as "Pebbles"
He is still doing AWESOME - We love this cat ( Would love another one) lol Jackie

---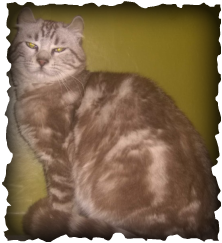 Highlander Male
"Malkin"
Hi Melissa,
Malkin's arrived!! He's a good boy. We love him.
He's a little scared of course but he really is doing well
considering the ride.
Thanks again Melissa!!
Sheri
---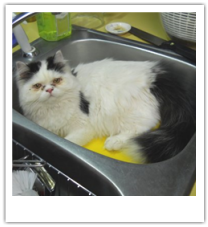 Non-Standard Napoleon Male
"Sooty"
Sooty has great hair very easy to take care of - I am afraid Floyd's coat is so long and thick it is really difficult to keep out the knots. While Sooty was in surgery to be altered, we had them shave around his "butt" because I was having a bit of trouble keeping that area clean. We love him he is great fun - I had him out with Floyd while feeding Cedric the pig this morning. Geoff


---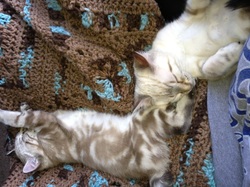 Highlander Males
"Hazelnut and Latte"
Now Known as "Harley and Casey"
Melissa, The boys are doing great! They are playing and running up and down the stairs non stop! They are eating and drinking plenty. I feel like they have doubled in size in only one week. They love sleeping in the bathroom sink! They have also managed to climb into the kitchen sink, but no showers yet! They love to cuddle up on my and my blanket to nap in their down time. I will send a follow up email with pics. M


---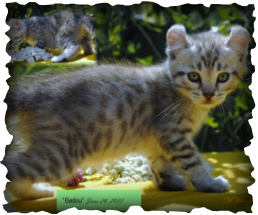 Male Highlander
"Badou"
Now known as "Moja"
Moja is a healthy eater, he loves to open the bread if it's left on the counter so we have to make sure it is put up. He eats Blue brand cat food and Blue wet food as a treat. We give the cats Vitality treats which they all love. He like to bird watch with the other cats, I need a bigger area so they all fit happily in the kitchen window. He sits with me at the computer (like he is now and chasing the cursor). He takes walks, goes out back with us, where he likes to hunt lol. He gets along great with the other two cats but he really bonded with Trooper and they play alot together. Mittensis a solitary cat and only comes around when she wants to be held LOL.

We thank you so much for Moja he isa loving loving cat and we love him so very much!


Jessica
---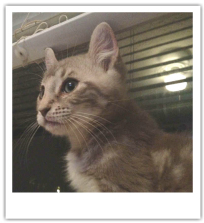 Male Highlander
"Budro"
Hello Melissa this is Marvin, Budros owner he is doing fine. He loves to use his claws.. He has jump in the bath with my little girl she thought I it was so funny. And he loves playing with the other cat but he hates being alone..
---
Male Napoleon Kittens (seen below)
Jordan and Sherbert
Melissa,


Just to let you know...picked up the kittens last night but with the bad weather and traffic, did not make it home until after 1 am. So, I am sending you this note now... They have arrived safely and are adapting well to their new surroundings. We are enjoying them immensely!
Enjoying them so much... My daughter saw them for the first time last night and went crazy over them...Orpheus slept on her all night long, lol.
Thank you!
Altair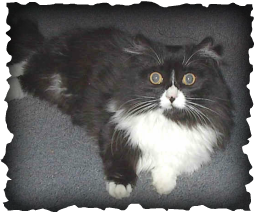 Non-standard (straight ears) Kinkalow Kitten
"Bella"
Melissa,
My experience with Forever Kittens was wonderful. You made everything so easy and kept me up to date on everything that was going on with my kitten! Bella is such a lovable kitty- she immediately made herself right at home. Thank you so much!

Take Care,
Lisa


---